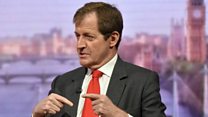 Alastair Campbell: My brother's struggle with schizophrenia
18 August 2016 Last updated at 14:17 BST
Former Labour spin doctor Alastair Campbell has spoken about his brother's struggle with schizophrenia after he died last week aged 62.
People with the condition tend to live on average 20 years less than most people.
He has never spoken about his brother Donald and now is campaigning for better understanding of mental health.
"It's only when you're in moments of crises or when you stop taking medication, that with somebody like Donald, people would know."