Childhood obesity: Doctors criticise 'weak' government strategy
18 August 2016

From the section

Health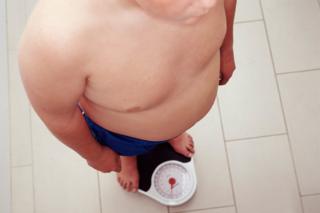 Leading doctors have criticised a "weak" government strategy to tackle childhood obesity in England.
The British Medical Association said the plan did not include many measures backed by health experts, such as curbs on TV ads or cheap deals on junk food.
The proposed targets for manufacturers to cut sugar in children's food and drink by 20% were "pointless" because they were voluntary, it added.
A food industry body said manufacturers were making progress in cutting sugar.
The government's plan asks the food and drink industry to cut 5% of the sugar in products popular with children over the next year.
It says the ultimate target is a 20% sugar cut, with Public Health England monitoring voluntary progress over the next four years.
What is the UK's most sugary drink?
How much sugar is hiding in your food?
And officials say this reduction in sugar could also be achieved by making portions smaller, for example.
The plan also calls on primary schools to deliver at least 30 minutes of physical activity a day and to help parents and carers ensure children get the same amount at home.
'Missed opportunity'
School sports will also get more funds – boosted by a tax on sugary drinks to come into force 2018.
The government says the tax – announced five months ago – will also add £10m a year to school breakfast clubs.
The childhood obesity strategy also says:
Public Health England (PHE) will set targets for sugar content per 100g, and calorie caps for certain products
PHE will report on whether the industry is reducing sugar content through the voluntary scheme. If insufficient progress is made, the government will consider "whether alternative levers need to be used"
A new voluntary "healthy schools rating scheme" will be taken into account during school inspections
But Professor Parveen Kumar, chairwoman of the BMA's board of science, said the government had "rowed back on its promises by announcing what looks like a weak plan rather than the robust strategy it promised".
"Although the government proposes targets for food companies to reduce the level of sugar in their products, the fact that these are voluntary and not backed up by regulation, renders them pointless."
The Obesity Health Alliance, a coalition of 33 charities, medical royal colleges and campaign groups, said the plan fell "disappointingly short of what is needed", with some anticipated measures "significantly watered down or removed entirely".
Sir Harpal Kumar, chief executive of the charity Cancer Research UK, said the measures were a "missed opportunity" in the fight against childhood obesity.
Meanwhile Councillor Izzi Seccombe of the Local Government Association (LGA) said it was "disappointing" that a number of measures it had called for – such as for councils to have the power to ban junk food adverts near schools – had not been included.
And Prof Neena Modi, of the Royal College of Paediatrics and Child Health, said the long-awaited strategy provided "no bold action and instead relies on physical activity, personal responsibility, and voluntary product reformulation".
The British Dental Association also reacted angrily, accusing the government of having a "relaxed attitude" about persistent inequalities in health.
'Proud record'
But responding to the plan, Ian Wright of the Food and Drink Federation said manufacturers recognised their responsibility in meeting the challenges posed by obesity.
He added: "Soft drink companies are already making great progress to reduce sugars from their products, having achieved a 16% reduction between 2012 and 2016.
"Indeed, many individual manufacturers have a proud track record of reformulation to remove salt, fat and sugar from food and drinks and this work will continue.
"However, the target set for sugar reduction in the plan is flawed.
"It focuses too strongly on the role of this single nutrient, when obesity is caused by excess calories from any nutrient," he said.