Nicola Sturgeon: Scotland 'could stay in UK and EU'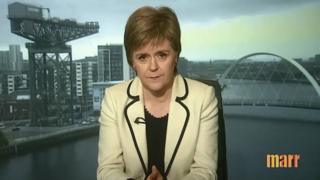 Scotland could stay in the UK and the EU, while the rest of the UK leaves the bloc, Nicola Sturgeon has said.
Speaking on the BBC's Andrew Marr show, the first minister said there was effectively a "blank sheet of paper", creating an opportunity to explore previously "unthinkable" options.
Earlier this week, Scottish Secretary David Mundell said the idea of such an arrangement was "fanciful".
But the prime minister said she would listen to any options on Scotland.
Ms Sturgeon also said she thought Scotland was in a "very strong" position in the UK's Brexit talks after Theresa May said she would not begin the formal process of leaving the EU until there was a "UK approach and objectives".
Following a "positive" meeting with Ms Sturgeon in Edinburgh on Friday, Mrs May said: "I'm willing to listen to options and I've been very clear with the first minister today that I want the Scottish government to be fully engaged in our discussion.
"I have already said that I won't be triggering Article 50 until I think that we have a UK approach and objectives for negotiations – I think it is important that we establish that before we trigger Article 50."